Starr Companies (or STARR) is the worldwide marketing name of Starr International Company Inc. and C.V. Starr & CO., Inc. The history of STARR can be traced back to December 1919, when Cornelius Vander Starr founded an insurance agency in Shanghai, China. Throughout the 1920s, Starr established branches across China, and in Hong Kong, Hanoi, Saigon, Jakarta, Kuala Lumpur and the Philippines. STARR is a leading international insurance and investment organization with operations in five continents. STARR provides Property, Liability, Accident & Health and a range of specialty insurances through its subsidiaries, including Travel Assistance, Aviation & Aerospace, Construction, Crisis Management, Energy, Environmental, Financial Lines, Marine, Professional Liability, Public Entity and Specialty Products. STARR also provides a wide range of insurance-related services, including claims, reinsurance, risk assessment and loss control.
Starr International Insurance Philippines, a branch of Starr International Insurance (Asia) Limited and a company of Starr International Company Inc. Starr International is a privately held global insurance company. Starr International's insurance entities provide high-quality, customized property and casualty insurance products, with significant access to the excess and surplus marketplace. These entities also provide risk management, claims management, administrative, and reinsurance services to their policyholders. Starr International Insurance Philippines was licensed as a general insurance company in the Philippines in April 2013 and possesses an "A" rating by A.M. Best Company.
View Insurance Commission certificate
Managed by a team of experienced insurance executives from the Asian insurance market, Starr International Insurance Philippines focuses on providing quality general insurance services to the Philippine market.
Maurice R. Greenberg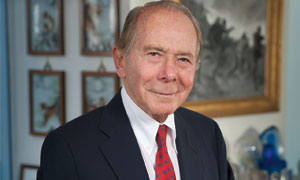 Chairman and CEO, C.V. Starr & Co. Inc.
Mr. Maurice R. Greenberg is Chairman and CEO of C.V. Starr & Co. Inc.
Mr. Greenberg retired as Chairman and CEO of American International Group, Inc. (AIG) in March 2005, after serving as Chief Executive Officer from 1967 until March 2005. Under his leadership AIG became the largest insurance company in the world and generated unprecedented value for AIG shareholders. AIG's market value grew from $300 million to $180 billion. AIG was created by C.V. Starr & Co., Inc.
He serves on the President's Council on International Activities of Yale University. He is the founding Chairman of the US-Philippine Business Committee. Mr. Greenberg is Honorary Vice Chairman of the Council on Foreign Relations and Vice Chairman of the National Committee on United States-China Relations. He is the past Chairman and Director of the Federal Reserve Bank of New York.
Mr. Greenberg is Board Member and Chairman Emeritus of New York-Presbyterian Hospital. He serves as a member of the Board of Overseers of Weill Medical School of Cornell University and is a Life Trustee of New York University. He is on the Board of Overseers of the International Rescue Committee and is active in a number of other civic and charitable organizations.
In 1990, Mr. Greenberg was appointed by Mr. Zhu Rongji, then Mayor of Shanghai, to be the first Chairman of the International Business Leaders' Advisory Council for the Mayor of Shanghai. In 1994, Mr. Greenberg was appointed Senior Economic Adviser to the Beijing Municipal Government. He was awarded "Honorary Citizen of Shanghai" in 1997. He is a Member of the Advisory Board of the Tsinghua School of Economics and Management, a Member of the International Advisory Council of the China Development Research Foundation and China Development Bank.
Mr. Greenberg received his pre-law certificate from the University of Miami and an LL.B from New York Law School in 1950. He has been granted honorary degrees from a number of institutions, including New York Law School, Brown University, Bryant University, Middlebury College, and The Rockefeller University. For the 70th anniversary of the D-Day landings, which he participated in, Mr. Greenberg received the insignia of the Legion of Honor from France.
Mr. Greenberg is married and has four children.